Last year was a trying one, to say the least. We faced difficulties that many of us have never experienced before. Yet, thanks to you – our valued partners – it was a good year for us by many measures. Despite a challenging time for the industry, we experienced another year of growth as our 2020 numbers indicate below.

While nearly 40% of our business was in the property sector, we saw growth in general liability, auto liability and workers' compensation. The chart below outlines our current overall book by line.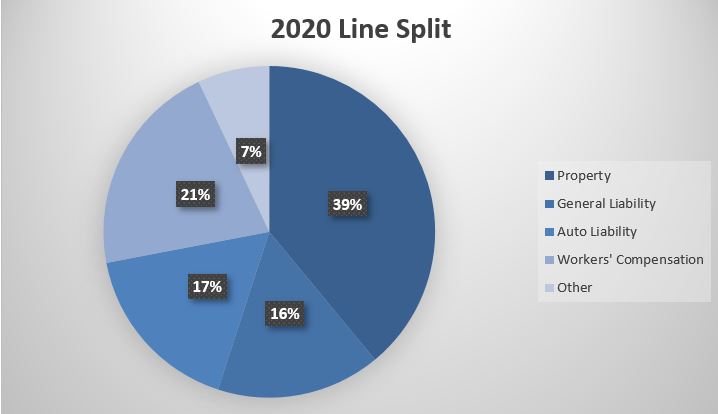 Additionally, 2020 was a constant reminder of just how important our teammates, agents, policyholders, injured workers and communities are. We've provided over $30 million in support to these groups and are fully committed to continuing these efforts. Please visit the AF Group People First Relief Program page to learn more about these amazing efforts.
None of this could have been accomplished without your dedication and support. We truly appreciate our valued partnership and look forward to a great rest of 2021!
Business Insurance Profile: Lisa Corless
AF Group President Lisa Corless was recently interviewed by Business Insurance magazine, where she spoke to the challenges the workers' compensation industry has experienced as a result of the pandemic, AF Group's expansion into commercial auto and how technology is changing the sector. To read the full article, see page 21.
AF Group Donates $150,000 in Additional COVID-19 Relief
AF Group has announced a contribution of $150,000 to three nonprofit organizations, continuing its assistance to charities in communities nationwide in response to the COVID-19 pandemic. Read more>
AF Group Donates $150,000 in Additional COVID-19 Relief
As an enterprise, AF Group was once again (eleven years and counting!) recognized by Business Insurance as a "Best Place to Work in Insurance."
AF Group was again recognized as a Ward's 50 company. For this honor, Ward's examined nearly 3,000 property/casualty and life/health insurance companies, and their recognition of AF Group was based on our outstanding financial results "in the areas of safety, consistency, and performance over a five-year period."
And most recently, our financial strength rating of "A" (Excellent) with a 'stable' outlook was reaffirmed by A.M. Best. While this accomplishment reflects well on our organization, it also reflects the success of our continued partnership with our agents.
Share this resource:
---
URL coppied to clipboard.

Or send it directly to someone via our email form:
---